Rape cultivation techniques
October 16, 2019
First, select good varieties of rapeseed to use double low quality rapeseed double 72, Huyou 15, etc. better.
Second, the layout should be based on the village, the unit as a unit to do a good job in a unified layout, into a piece of planting. Prevent flowering, so as not to affect the yield of rapeseed after the late drought. In the entire stage of rapeseed fertility, the ditches and clearing ditch are protected against stains. When planting a trench, it is required that the depth of the drainage channel is 0.8 meters, and the depth of the trench is 0.2 meters or more so that no water accumulates in the fields after the rain.
Third, sowing and selection management, loose soil white or white mulberry seedlings to avoid special mulberry. The sowing date is September 20-25. Mu sowing volume, white ground 05 kg, 0.3-0.4 kg spent white mulberry. Before planting, Mushi base fertilizer potassium fertilizer 5 kg, phosphate fertilizer 20 kg. When sowing, mix the fine mud and the big hero 20 g evenly sowing. After sowing, use 1,000 kg of rare human feces to seed, then cover the moist with straw, and remove the straw immediately after emergence. Seedlings were evenly seedlings during the first leaf stage, until the third leaf stage Dingmiao. Dingling standard, spacing of about 8 cm. In the 3-4 leaf stage, spraying 25ppm uniconazole (25 grams of uniconazole 25 grams plus 4 barrels of water) per acre, control the use of fertilizer after 4 leaves, and apply 4 kilos of fertilizer urea 5-7 days before transplanting. , 1-2 days before plucking, irrigating water and spraying to cure lice.
4. Transplanted rapeseed was planted in a "double dragon" narrow manner. Transplanting period is suitable from late October to mid-November. Before planting, do a good job of sorghum narrow, 1 meter wide board for a ditch and a ditch, in the lotus root to apply the base fertilizer, 25-30 kilograms of ammonium bicarbonate, 20-25 kilograms of phosphate fertilizer, 0.5 kilograms of boron fertilizer. Then turn the ditch for muddy mud, cover the soil with mud, and plant two rows of rapeseed on a row, with a 35 cm spacing and a 15-18 cm spacing, planting 0.7-0.9 million mu per ear according to transplanting.
5. The use of nitrogen, phosphorus, and potassium in combination promotes the use of 10 kg of ammonium bicarbonate, 10-15 kg of phosphate fertilizer, 7.5-10 kg of potash fertilizer, and 0.25 kg of boron fertilizer. Immediately after planting, 1,000 kg of rare human feces was poured to encourage the early emergence of live trees. Miaofei should be applied early, and apply 15-20 kilograms of ammonium bicarbonate for 7-10 days after transplanting. When the moss is about 3 centimeters high (mid-February), Mushi 10 kg of urea is used as a moss fertilizer. For the late and poorly growing plots for transplanting, the "Spring Fertilizer Lashi" should be adopted, which can be applied earlier in the month of January, and later see Miao Shi's application of the doping fertilizer. At the beginning of the flowering period, depending on the seedling condition, 4-6 kilograms of urea were applied as Linhua.
6. Harvest When two-thirds of the pods are yellow, and the rapeseed is black, the rapeseed is harvested for a short period of time. After harvesting, it is cooked for 6-7 days.
Comprehensive prevention of pests and diseases of rapeseed pests, mainly pre-worm and late sclerotia.
Seedling stage treatment of locusts with Dagongchen dressing; Sclerotinia prevention, removal of the old leaves at the flowering stage, beginning and full flowering period with 60% anti-mildew Bao 75 grams of water 50 kg spray control.
Weed control. Before 3-5 days of transplanting in the grass barren fields, use 10% glyphosate 500 ml or 20% gadolinium 200 ml water and 50 kilograms of spray to block; After weeding in the living plant, use 5% fine grass g 45- 50ml or 30% Shuangcaojingml plus faucet 7.5kg evenly spray.

Yangling Taide Agricultural Technology Co., Ltd.

Website:

Hoffman External Fixator .

Professional External Fixator System B manufacturer is located in China, including Styker External Fixator,Hoffmann External Fixator, Ankle External Fixator, etc.





Certification: CE & ISO13485
Material: Aluminium, Stainless steel, titanium .
Advantages of External Fixator System B
I. Unnular design, firm and reliable
II. Easier operation & short time
III. Minimally invasive surgery, no influence to blood supply of bone
IV. Second surgery is unnecessary, remove directly in clinic
V. Dynamic design, better for bone healing
VI. Taper bone screws, taut and firm after insertion.
We can also provide OEM service for you.

Hangwei is a professional manufacturer of , and look forward to cooperation with you!
We strive to provide superior benefits to professionals and patients through the development of reliable products.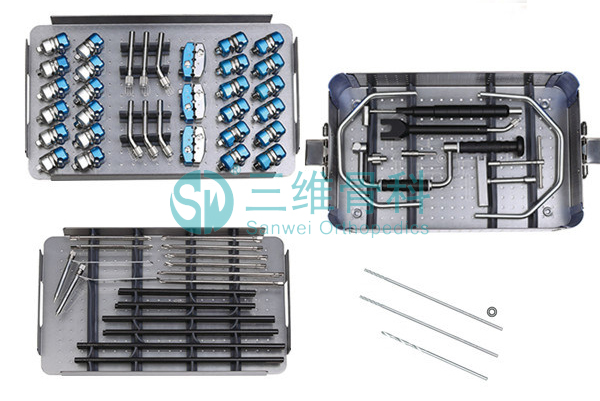 External Fixator System B

External Fixator System B,Styker External Fixator,Hoffmann External Fixator,Ankle External Fixator

Shandong Hangwei Orthopedics Medcial Instrument Co., Ltd. , https://www.hangweimedical.com